Financial Consumer Native & Web App
ICM Investment Card

Launching a digital consumer experience for a new financial product.
The Challenge
Develop the digital experience for a brand new financial product within an unfamiliar product category. Communicate the offering clearly to potential and newly signed up customers.
My Role
I was lead product designer on this project, at times working solo, at others collaborating with an associate designer. I also developed a research plan and facilitated user interviews and testing.
This project developed web and mobile apps for an entirely new financial product: an account that combined personal transaction accounts to higher-interest investments. ICM customers carry a debit card with a checking and savings accounts, each linked to government mutual funds that earn higher than 2% annually. The concept is similar to others on the market such as Marcus by Goldman Sachs that offer more consumer value over the long run. There were two principal challenges of this project.

One was coordinating our work with parallel workstreams. We were developing custom web solutions; a responsive web and iOS and Android mobile apps. Meanwhile, a pre-packaged solution for early adopters was being rolled out. Coordinating app behaviors was challenging—we needed to achieve feature parity while also remedying critical issues we found with the other application.

Second, the product was unfamiliar to customers. Though the product could follow accepted patterns for new customer onboarding and account management, the innovative nature of this new product category touched a raw nerve for customer perceptions and sensitivity. Where's my money going? How is this insured? How is the company making money? The scope of our research was to prove out usability, but we also escalated these perception issues to the client about how to message their app and provide customer support. Where it did affect usability, we made changes to clarify behavior to ensure we were shooting straight with users.

Confidence does not replace plans. This project provided the team with a great lesson as to why unpacking assumptions at the beginning of the project is worthwhile. The value I brought was using design to help us confront critical issues, such as having a solid long term app deployment strategy, and packaging this product so that it could work as a white label solution for other businesses. These are not simple topics. Design solved many of these problems once they were made visible, and brought other disciplines to the table to address others.

Investor Cash Management will launch soon in 2019.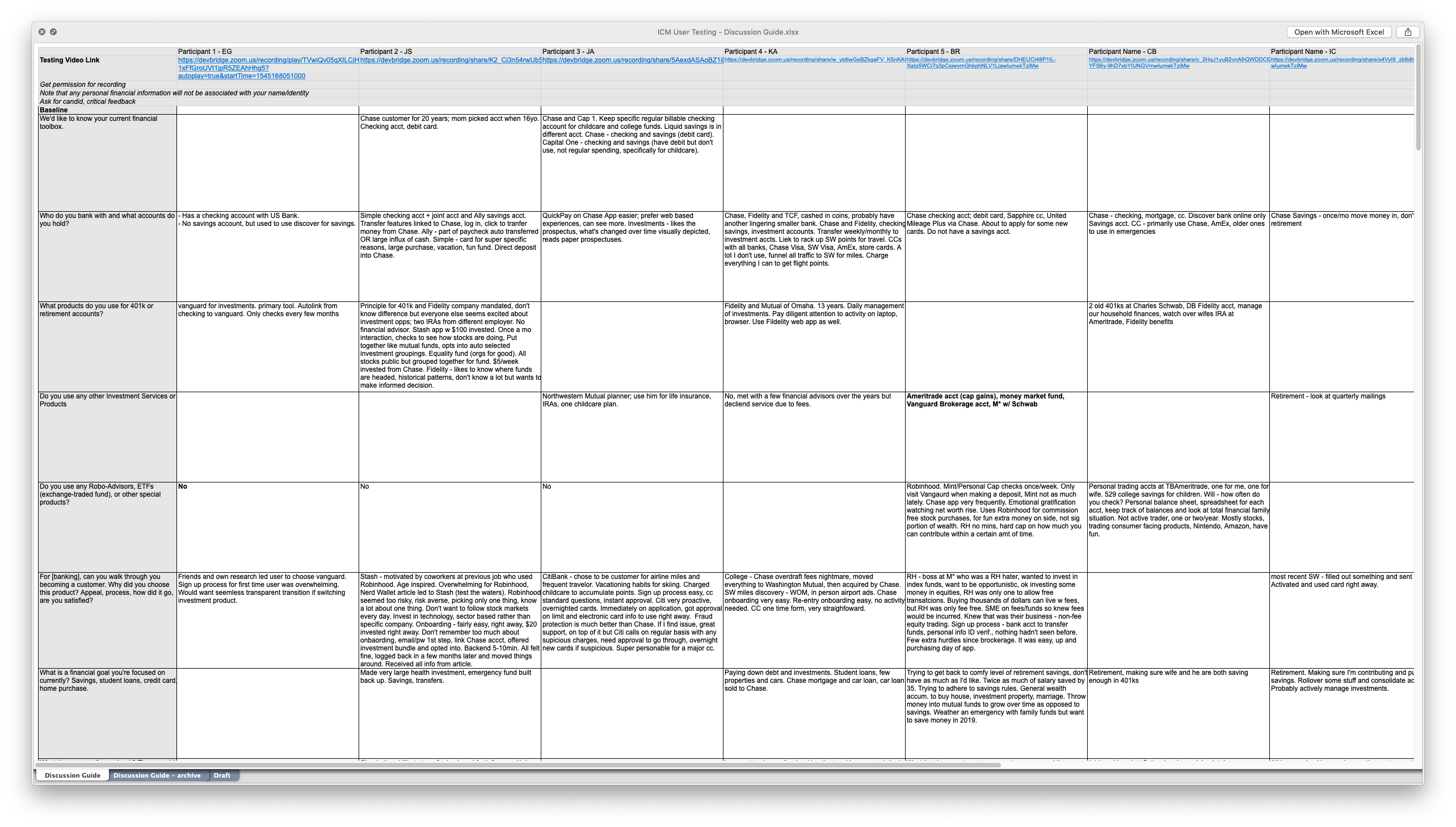 User interview notetaking matrix.



Direct deposit screens.