Data Master System

Hub Group: Carrier

Developing a platform to find criminal activity within 40,000+ company records.
The Challenge
Replace a stack of legacy data systems with a single web portal.
My Role
Sole lead designer on this project, paired with another design working on another product in the same client ecosystem.



Hub Group is a global shipping logistics organization. On highways across the world, semis hauling Hub Group's signature green containers. The ability to deploy that freight depends on a patchwork of legacy systems. Incredibly talented people were making time-critical deals on the phone while fumbling with decades-old software. Startups with none of this technological debt were threatening Hub Group's domain, thus my consultancy was engaged on a replatforming project.

This project was a not-so-simple data master project. I've worked on a lot of data master systems, and I'm good at managing those projects. For this one, I was blessed with a client comfortable airing its uncomfortable truths to an outsider. Conducting research was my first activity: I needed to embed within the workplace and to speak with users.




I spent time with the primary user group, an overworked compliance department. These users were on-call to help Hub Group's brokers get new carriers approved quickly. Some of their work was exciting detective work (finding criminal operations), but far too much of its was simply puzzle work of hunting data in old software. Onboarding new compliance employees involved training them on multiple inconsistent systems. These worst examples were green screen applications; the best were clumsy web apps.

Once I reached a basic level of understanding, I started product design. I studied the primary workflows: of approving or rejecting a carrier. After cataloging the essential data, I fleshed out a wireframe of the application. This phase moved quickly, supported as I was by the research conducted prior.

A user validation session conducted via Zoom.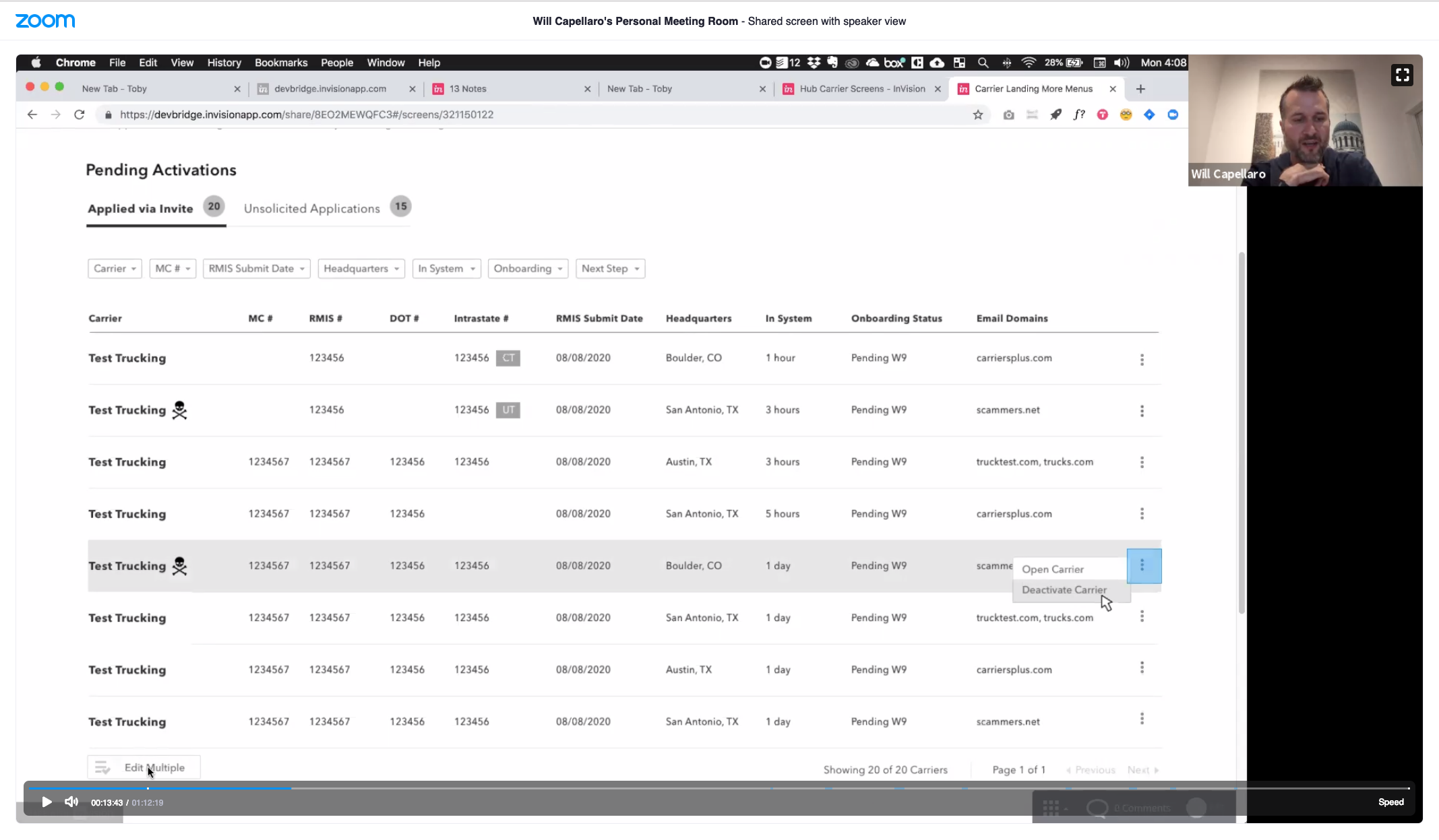 User input was the next step and the most critically important part of the project. I began high-frequency validation sessions with users and making incremental updates based on their feedback. I presented clickable prototypes to the users and stakeholders on video calls, which I recorded for later review. I formatted these sessions to be interactive, prompting users with questions while I walked them through the product. The compliance users were candid with their criticism for specific changes, and became more and more confident the solution proposed would transform their work.



A high-fidelity design
My work concluded at the clickable visual prototypes. Hub Group then took on production and development within internal teams. While I typically see projects through to launch, in this case, I front-loaded a full project so that I could provide a clean handoff of well-thought-out, designs that had been validated by usability testing.